Happy Friday,
Welcome to Week 14 of my $20k to $500k in 1 Year Challenge. You can read past weeks right here.
When I was visiting family in Ohio earlier this year, I was going through a box of old stuff at my mom's.
I wrote this in 2004 when I was 22:
Moving past the misspelling and the uncanny lack of detail, I wanted to share this because it's an important reminder:
Your drive to achieve your goals is more important than how you'll get there.
I consumed every real estate investing book imaginable and, to this day, I have made $0 from it. Actually I'm in the red because of the cost of the books.
But who would have thought that just two years after writing that note, I'd be making $30k+ per month from a viral video site?
It's not exactly snowballing the purchase of homes, but I ultimately achieved my goal because of a relentless, open-minded, and quick-to-adapt drive.
It's a reminder to myself as much as I wanted to share it with you.
But enough of that. Let's get into this week's email.
What's in it:
Wrapping up 2022: this is my last email of the year.
On the naughty list: I purchased backlinks.
Detailed breakdown: steal this newsletter strategy.
Microconsulting: good feedback so far.
2023: what's to come.
Wrapping up 2022:
Weeks 15 and 16 will have to only exist in our hearts and souls because I'm taking a couple of weeks off from the challenge itself. Week 17 will be on January 5th, and it should be the start of a really exciting run.
Onto the numbers…
Here's where I stand moving into 2023.
118,149 Facebook followers
9,102 email subscribers
28,230 page views (December so far)
$503.39 earnings (December so far)
Spent ~$12,800
75 published articles
Considering I'm already 25% through the challenge, I certainly have my work cut out for me.
I detailed in Week 12 why I still think it's possible.
Each week, the content is getting better and better. So while the followings have been somewhat stagnant (until January when I'm going wild), the kind of content I'm creating is becoming very unique all the while hitting the target audience.
Whatever niche you're in, that's really the key. Especially with the rise of AI, which will inevitably replace weak, brand-less writing, it's important to set yourself apart.
I'm on Santa's naughty list:
I purchased backlinks.
ENORMOUS DISCLAIMER: I'M NOT CONDONING THIS STRATEGY. I TESTED IT AND AM REPORTING MY EXPERIENCE AND THOUGHTS.
I've said pretty clearly to never buy backlinks, and I'm probably right. Prior to the past month, I've never bought a link in my entire life.
But what I'm learning is that everyone seems to be doing it. And, when done correctly, Google doesn't seem to care.
For those of you who have been doing this for years, humor me as I share my noob experience.
First, I needed to find a reputable service. Fiverr and other offerings that seem too good to be true will certainly backfire.
After research, it seems the most reputable service is FatJoe.com (not sponsored). Even Neil Patel suggested it and that guy couldn't possibly be wrong… right?
Right?
Anyway, the service was very straightforward but not cheap.
I chose their "blogger outreach" option which means they write a new article for you that will live on another website (which gets paid), and it'll include a contextual link back to your site.
Example: you write a quality blog post on scottdelong.com about building a website with Webflow, which includes a link to your own site, and you pay me for it. Quality content is (theoretically) created, I make money, and you get a link.
FatJoe is a middleman in this scenario.
You can choose exactly what you want based on Domain Authority:
The price goes up accordingly based on DA (up to 50+) because the higher the authority, the more value (in theory) the link.
Then you provide the anchor text and link you want within the new article:
I bought two DA30+ links and two DA40+ links. This happened in Google Search Console pretty shortly after…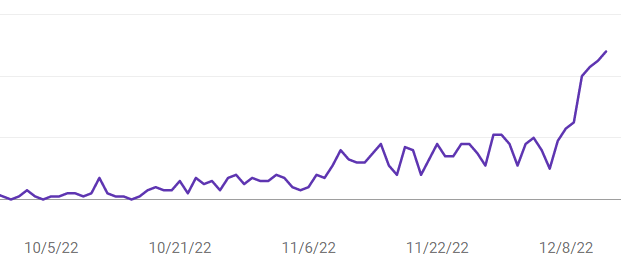 Not a lot of impressions, granted, but speaks for itself.
Coincidence? I'm not sure, but I doubt it.
The new queries leading to increased search impressions are all related to my article FatJoe used for the backlinks.
I'm interested to say the least.
The last thing I want to do is rattle the Google gods and get penalized.
But when done correctly, is it actually bad? Well, I say yes for one reason:
FatJoe (and presumably other services) didn't vet my site at all. I could've posted literally any garbage article and they would have gotten me a backlink to said garbage.
That's where I'm seeing the broken link (no pun intended) in the chain.
I contacted FatJoe after they delivered my order and asked them for help moving forward. Just to see what they'd say.
The person was very nice, very real, and actually very thorough considering it was a personalized reply:
How often you buy is heavily dependent on your niche.
The most important thing is to purchase in a natural way – mimic what it would look like for your site to get backlinks organically.
Vary your anchor text.
Vary the Domain Authority bracket you're going after.
It all makes total sense.
So what do I think about this? Well, it's certainly risky and that alone is perhaps reason to not continue.
But, for now, the verdict is still out for me. The fact I seemingly saw almost immediate results is intriguing to the say the least.
I'm guessing as long as your site is legitimately high quality, this strategy works pretty well. There's likely some combination of buying too many backlinks too quickly and your content being terrible that flags it.
I'd love to hear your thoughts, so feel free to reply.
Again, I'm not condoning it.
But here's a strategy I absolutely condone.
And best of all, it's pretty easy to copy for many niches.
Let's talk about TLDR, a 750,000 subscriber list created by a software engineer named Dan Ni.
There are so many parallels to my own strategies, so I want to break it down not only for you but for myself.
First, let's go through the flow which is actually similar to mine I outlined in Week 9.
He starts with a Facebook ad: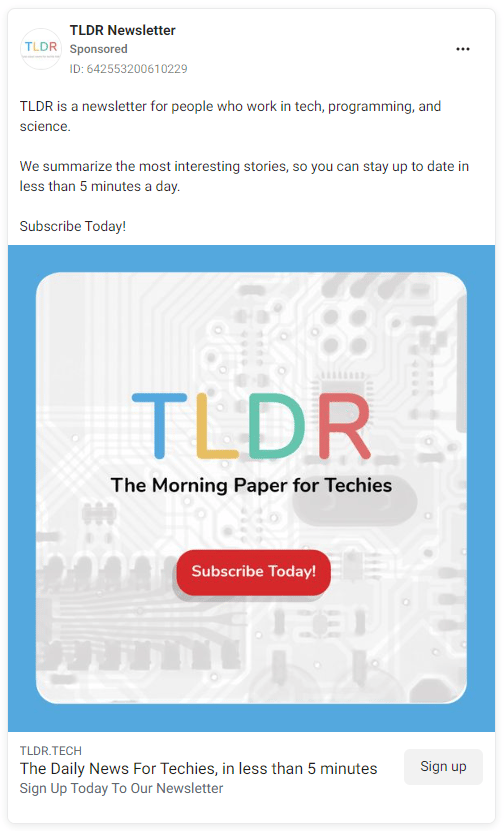 Simple and straightforward as it should be.
Note: in case you didn't know, you can see anybody's Facebook ads by going to their Page and clicking Page Transparency -> Ads Library. It's a great way to see what's working.
Note 2: I'm sure he's advertising other places too, but definitely heavily on Facebook.
Once the user clicks Sign Up, they're taken to a landing page without distractions:
Things start to become genius, even if simple.
It tells you exactly what you're going to get. Stop complicating it.
If you click "one daily email," you can read the latest one. It's a nice bonus.
It also includes how many other readers there are. Why wouldn't you join three quarters of a million other techies? This must be the place to be.
It gets better once you sign up:
While "please check your email" doesn't seem unique, how he's doing it actually is. He's telling you you need to confirm, but you actually already are confirmed. More on this in a moment.
The toggles to quickly and easily subscribe to other newsletters is perfect. I chose one additional one.
But onto the confirmation email.
This is very smart.
You do not need to reply with OK to complete your subscription. I know because I didn't and still get the email every day.
It's a clever way to get a reply, which signals to Gmail and other providers that you're active, the newsletter is something you want, and that the list is high quality.
This all contributes to great deliverability and, in particular, staying out of the annoying Promotions folder.
Number 2 above also does not technically confirm anything. It just tells Gmail, once again, that you want it in your Primary which affects the quality of the list and overall deliverability to all subscribers.
For example, the email you're reading now regularly lands in the Primary inbox. It's because I've had so many discussions with readers, indicating to Google that this isn't just some commercial email blast to buy diapers.
Everything to this point is highly replicable, and I've done it to build lists well over 500,000 subscribers.
But where Dan crushes it – and you need to as well – is in the actual daily email.
​Here's one. ​
It's REALLY good. It delivers exactly what he promised in an easy, concise way.
Curation and writing skills are incredibly important to complete the flow from ad -> sign up -> "confirm" -> satisfaction.
But that's not the end of this…
Because Dan is a respected software engineer delivering real value in a concise way, he's reaching highly sought after readers.
And advertisers foam at the mouth for them, which is why his sponsored content kit blew my mind.
That's $24,000 in potential earnings per email… and it's daily.
I don't know the details obviously, but these three spots have always been filled in the week I've been reading.
It's a straightforward strategy but, before you think you give this a go, I want to hammer some points home:
Sponsorships are difficult to get unless your readers are highly engaged and highly sought after. Tech and finance are two niches where it's perhaps the easiest to find sponsors.
You need to create legitimately great ads targeting the right people. If you happen to get 10,000 inexpensive users for a newsletter about working from home, but none of them care, it's not valuable.
Delivering on what you promise. You really, really cannot get lazy. If every day you're not providing a valuable email that you, yourself, would love to read, then it's not going to work.
Hopefully you can take a few things away from Dan's success. I learned a few things as well that I'll be applying.
And you should definitely subscribe to TLDR. It's really good.
Before I let you go…
A quick update on microconsulting:
If you're new here, microconsulting is an inexpensive offering I'm testing where I go through your website, ad campaigns, and anything else you want me to – on video – for around 10 minutes.
I've done two so far, and the feedback has been good. I have 8 others to get to this weekend.
Nonetheless, my plan is to fully launch this offering some time in January.
If you're interested, all you have to do is click on this microconsulting link. It'll automatically tag your email so I can let you know when it's available. Thanks! And thank you ConvertKit for that neat feature.
On to 2023 and beyond:
That's it from me this year. My wife's birthday is just before Christmas, so we're taking a short trip then the holidays will consume me.
A lot has happened in the 14 weeks of this journey so far. I've learned so much, met so many interesting people, and have, of course, grown a new business.
January is going to be all about building the site's newsletter and ramping up monetization. It's going to be fun.
If you celebrate Christmas, have a very merry one. If you don't, then just have a super good day on the 25th.
Unless something particularly unexpected happens, I will see you here on January 5th.
Same bat time. Same bat channel.
Happy New Year.